Sent to you by moya via Google Reader: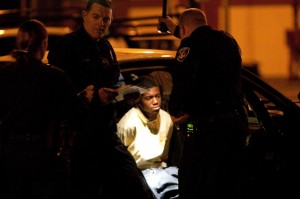 Photo Courtesy of Thomas Hawk @ Now Public
(Young African American man, hand cuffed in police car, January 2009 after Oscar Grant Murder Protest in Oakland, I wish I knew his name.)
Amadou. Sean. Lovell. Oscar. Aiyana.
Oftentimes, when it comes to personal violence and race and structural violence and race, I turn to other writers, better writers who can capture how I feel.
Baldwin understood  and articulated the purpose of the police, arguably better than anyone else I have read.
This is all I can offer today on the Oscar Grant verdict, protests, looting and subsequent media coverage.
I hope that it helps.
Similarly, the only way to police a ghetto is to be oppressive. None of the Police Comissioner's men, even the best will in the world, have any way of understanding the lives led by the people they swagger about in twos and threes' controlling. Their very presence is an insult, and it would be, even if they spent the entire day feeding gumdrops to children. They represent the force of the white world, and what that worlds real intentions are, simply, for that worlds criminal profit and ease, to keep the black man corralled up here, in his place. The badge, the gun, the holster, and the swinging club make vivid what will happen should his rebellion become overt….

…there are few things under heaven, more unnerving than the silent, accumulating contempt and hatred of a people. He moves through Harlem, therefore, like an occupying soldier in a bitterly hostile country; which is precisely what, and where, hie is and is the reason he walks in two's and three's. – from Fifth Avenue Uptown
And here is another quote,
The projects in Harlem are hated. They are hated almost as much as policeman, and this is saying a great deal. And they are hated for the same reason: both reveal, unbearably, the real attitude of the white word, no matter how many liberal speeches are made, no matter how many lofty editorials are written, no matter how many civil rights commissions are set up. – from the essay Fifth Avenue Uptown
One one hand a Mehserle verdict was a slap on the wrist. On the other hand, white police, historically, have rarely been charged with  nor found guilty of killing Black people, unarmed or otherwise.
Amadou. Sean. Lovell. Oscar. Aiyana
Baldwin? "They represent the force of the white world."
Thoughts on the verdict?
*note. it wasn't until I began to look for photos for this post that I found myself crying inconsolably. It's a combination of working really hard, lack of sleep and seeing these images of uncut Black rage.  The pictures made it real.  Feelings of survivors guilt. I do my part, and ai am grateful for all of the gifts that I have. Looking at these police. Reminds me that I escaped a real serious East Oakland fate. I am a human being. How could I not feel something. I am from Oakland. How can I not feel something?

Related posts:
Things you can do from here: