Sent to you by moya via Google Reader: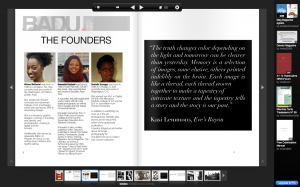 Earlier this year I said that Mambu Badu was the freshest thing since Honey Magazine. The Quirky Black Girl magazine from 2000 that articles on Lil Kim and Lauryn Hill. The articles seemed to reflect a vision of Black girls that wasn't as focused on racial uplift, natural hair guides, and finding a "good Black man" in the way that say- Essence is.
Mambu Badu is significant to me because it appears to be made with the explicit intent of centering the lives and art of Black girls. Where else is that?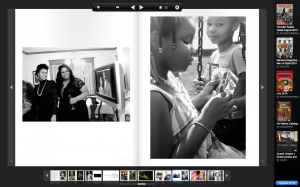 Furthermore it is unique in that it doesn't seem to be in response to an event. It appears to be an endin and of it self. That kind of work is powerful.
Disclosure, two of the creators are my homies @alice_wonder and @dascruggs. The third creator is the awesome @kameelahwrites.However, the whole time they were working on it, I had not idea of the scale of it. I say they should do a limited printing of 100 copies and sell them.
On to Black Girl Problems on tumblr.
@Afrolicious put me on to Black Girl Problems on tumblr. I Love this blog because it demonstrates a particular Black girls subjectivity- a point of view and lived experience.
This blog resists the erasure of Black girls and for that reason it is hella fresh.
You up on Mambu Badu? What did you think of it?
Black Girls Problems? Thoughts?
Things you can do from here: