ALLIED MEDIA CONFERENCE 2011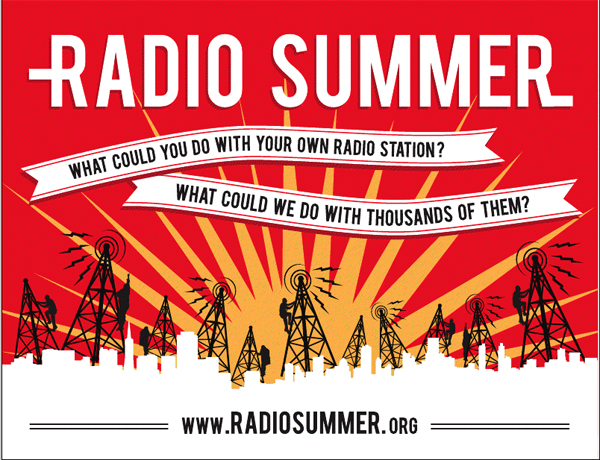 A message from AMC allies, Prometheus Radio Project:



 RADIO SUMMER HEATS UP DETROIT! 
Let's make media justice history.  After a ten-year fight to put the power of radio in the hands of the people, we won! The Prometheus Radio Project and the media justice movement built a powerful coalition that pressured politicians to pass the Local Community Radio Act. Now we have a chance to bring community radio to urban areas for the first time. We can create the largest expansion of community radio in U.S. history, building hundreds of new stations that amplify the voices of all our movements.

Now we need to spread the word and prepare social justice groups to enter a competitive application process to get these stations. A new world of community-controlled media infrastructure is possible, but we have a short time to make it a reality. The chance to apply for these stations might come in less than a year, so this year's Allied Media Conference is the best time to learn, connect, and strategize about this opportunity.

Radio Summer is the first step of our outreach campaign. It's a time for organizers and media justice activists to hold conversations with community groups about this historic chance to start a radio station.

What voices need to be amplified in your city? Prometheus will support you with information, tools, and contacts to host your own event. Check out the two sessions below to spread the word or start a station.
 SPREAD THE WORD 
Radio Summer Organizer Training: Spreading the Word to Seize the Airwaves
Saturday 5:30-7pm (Room M- McGregor)
In this participatory workshop we'll share popular education tools to frame a community conversation about making media and organizing through radio. We'll play with workshop design, facilitation techniques, and simple but powerful organizing tools such as community mapping. Organizers can use this interactive workshop to strengthen their groups and build the independent media movement. Participants will leave with tools and support to present this opportunity to groups in their communities. Designed especially for Radio Summer, this workshop is open to anyone but participation is key.
 START A STATION 
Put Your Hands on the Radio: How to Apply for an LPFM in Your Community
Sunday 2:30p-4pm (Room B-Mcgregor)
What does it take to start a community radio station? With a valuable opportunity to apply for Low Power FM community radio licenses on the horizon, this Spanish friendly how-to workshop will get you started on the road to building your own station. Participants will learn about low power radio and how to lay the groundwork needed to get a license and get on the air. Specifically, participants will learn about the process of submitting an FCC application, finding an available frequency, how to organize a group for station governance, radio equipment and technology, and raising money for the station. There is a lot of bureaucracy to learn, so this workshop will provide tools to navigate the application process and organize constituents and community allies.
 STAY TUNED 
Prometheus is excited to connect with you in Detroit and learn ways we can support each others' work. To stay updated on the campaign to expand community radio, you can also check out our website, subscribe for our email list, or attend a webinar about starting a station.

For a link to all sessions involving Prometheus Radio Project check out our full AMC schedule.

Radio has proven to be a powerful organizing tool.  Passing the Local Community Radio Act was just  the beginning of our work. Let's hit the road, spread the word, and seize the airwaves together!

Electromagnetically Yours,

Prometheus Radio Project
The 2011 Allied Media Conference is organized by Allied Media Projects. AMP is supported by grants from the Broadband Technology Opportunities Program, Ford Foundation,  Nathan Cummings Foundation, Open Society Foundations, Instructional Telecommunications Foundation, Media Democracy Fund, and the Center for International Media Action.

AMC2011 is supported through the generous sponsorship of Consumer's Union, Detroit Creative Corridor Center, Media Equity Collaborative, the University of Michigan School of Social Work Community Based Initiative, Free Press, INCITE! Women of Color Against Violence, Media & Democracy Coalition, University of Michigan School of Information, the James & Grace Lee Boggs Center, and Prometheus Radio Project. 

+ Learn more about AMC sponsorship opportunities.