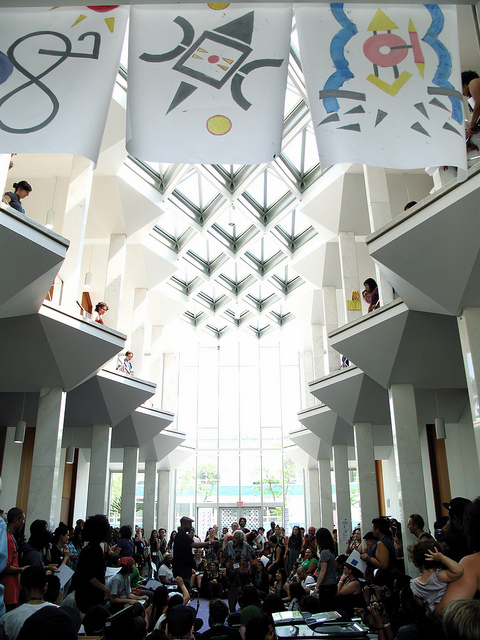 Greetings from AMP!

Remember AMC2011? It was so good. Check it out: we just posted our AMC2011 Documentation Round-up.

And now let the AMC2012 organizing process begin!

As AMC networks grow and deepen, we are designing new structures of conference content to hold and nurture those networks. In addition to Tracks, AMC2012 will feature Network Gatherings and Practice Spaces. We invite you to submit a proposal for one of these types of content.

Before submitting a proposal, carefully assess what structure best meets the needs of your network and only propose one type of content. There's always next year to do the other thing!

If you don't want to hold down an entire content area, but still want to mobilize a crew to attend the AMC together, you should consider organizing a Delegation. Read more about Tracks, Network Gatherings, Practice Spaces, and Delegations »
The deadline to propose a Track, Network Gathering or Practice Space is November 14. Submit your proposal here (Delegations don't have to be proposed).

NOTE: This is not a call for session proposals. The AMC2012 Call for Session Proposals will go out in February 2012.

Shout out to everyone taking direct actions on Wall Street and beyond, and to everyone doing transformative organizing to make those actions reach their fullest potential.

More exciting updates from AMP coming soon.

~AMP Staff
AMP is supported by grants from the Broadband Technology Opportunities Program, Ford Foundation, Nathan Cummings Foundation, Open Society Foundations, Instructional Telecommunications Foundation, Media Democracy Fund, and the Center for International Media Action.

AMC2011 was supported through the generous sponsorship of Consumer's Union, Detroit Creative Corridor Center, Media Equity Collaborative, the University of Michigan School of Social Work Community Based Initiative, Free Press, INCITE! Women of Color Against Violence, Media & Democracy Coalition, University of Michigan School of Information, the James & Grace Lee Boggs Center, and Prometheus Radio Project.

+ Learn more about AMC sponsorship opportunities.