Sent to you by moya via Google Reader: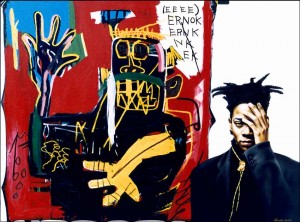 Basquiat, is one of my favorites, along with Frida, Renee Cox, Kara Walker, Faith Ringgold, Michelle Wallace, Klimt, Rothko , Chuck Close
There is something liberating about being around someone who is clear that "everyone has a right to be who they are."
Last month, while speaking to Supreme, we got into
it about the impact that Erykah Badu had on both Common and
and Andre's careers.
He was being incredibly insistent that SHE changed their music steez up for the dark side.  This sounded like that Oh Word post from way back when.
In and of it self the post was harmless, BUT given the history of how in heterosexual relationships if the man gets sprung, women and general and Black women specifically are portrayed as objects just short of witches, I said something when this post intially ran.
Back to Supreme. As a producer AND a fan he was insistent that:
a.) It wasn't until Erykah that Common and Andre started
"dressing funny."
"How you go from jeans and a t-shirt to knitted caps and
a smedium shirts?" he asked.
Looking back, first of all Common ain't rocking nothing
that Marvin didn't rock in the late 70's.
And I am looking at the phone like, Um you my crush, BUT,
I am not going to be taking too much of this. Lols.
And, where is the these negro's agency? As if Erykah Badu had
the power to "make" a grown man dress any old kind of way.
Supreme eventually conceded that the issue wasn't how they dressed, but the fact their their music changed while dating or after Ms. Badu.
He went on to say that while Andre's Love Below was a far better executed album, the issue with Electric Circus was that it didn't win.
I was like, "That's bullshit, because as an artist you have to allow OTHER artists room to experiment and grow.  Besides you are one of the most eccentric negros I know, hence why I stepped to you. How are you going to confine an artist to the style that they started with? As an artist YOU know we can't do that to ourselves."
Lastly he conceded that, according to Questlove, the music that came out of Electric Lady during the late 90's and early 2000's was just on some other shit, and this had to do a lot to do with Electric Circus and The Love Below, Voodoo and a few others.
It was an awesome conversation. Who beefs over soul music and artists transformation?
A couple of weeks ago Josephine and I turned Badunem into a verb,
to capture what happens when we:  a.) do us b.) we (try to) practice radical acceptance c.) stay fly and in the air d.) Are accelerators for other peoples artistic 'ish, and our own work as well.
Being an accelerator for other peoples artistic shit is incredibly valuable.  Artist are dangerous because they have influence over people. Anyone who influences people has the power to change the world.
I had always known it, but I had no idea how it would impact
my relationships with people.
I mean, cats want to come along, get they artistic charge and scoot. I now realize that these are  delicate, promising and nefarious waters to navigate. Honestly, I always suspected it about myself, but didn't realize it's value to others.
The gift and the curse.
As far back as 2001, I was in my early 20's dating a scientist, who had a function at Memorial Sloan Kettering. Muckety Muck Upper East side steez. We attended a wine and cheese reception. I had been working as a production assistant or admin when I could, BUT what I really wanted to do was work at HBO. My heart was set on it. Well, at this reception there was an original Chuck Close. As I stood there talking to these esteemed, old money seventy something white lady, my then partner looked at me with appreciation and said later, I am glad you were here, because I don't know anything about that art stuff.
Inactive artist's walk around stifled. They know they want to pursue something creative at 21, but they ignore it. At 31 the calling is still there. At 41, it just scratches at you on the inside unless you can drown it out with something else, or you finally answer it.
As a self identified artist and one who believes that everyone has a right to be who they are, I am trying to get a handle on what this means to how I go about the world, and how I interact with people. The gift and the curse.
Do you believe that everyone has a right to be who they are?
Has this impacted your relationships, if so how?
Meet any eccentric beings lately
Related posts:
Things you can do from here: