Sent to you by moya via Google Reader: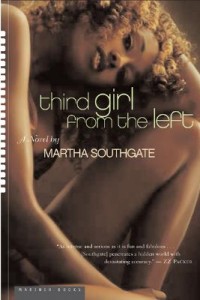 This one is for Jonzey and all the Black girls in the world who live to tell stories.
I reread Martha Southgate's Third Girl From the Left this week and I was moved by the fact that I read this book in 2005 when it came out, but I think that the fact that I am five years older, have lost and gained loves, lost and gained apartments, broken hearts and got my heart broken, lost and gained careers. I just look at the book, the importance of the narrative differently now.
The book is about a Black woman from Oklahoma who moves to LA in the 70's with dreams of making it big in Hollywood. What follows is a story about Black women's dreams, Black women desiring and loving Black women, constructions of family outside of the nuclear, and what happens to your dreams when they don't turn out the ways you expect them to.
Real Talk.
Here  are of couple of excerpts that jumped off  of the page:
Tamara Muses on the Politics of Getting her Film Made and her Film School Boyfriend
They made up. They didn't have time to keep fighting anyway. That as the other thing between them; the money and the time. They never talked about it. He was able to get enough money from his parents to hire a professional cinematographer. And she couldn't. She didn't have anyone to shoot for her. She had grabbed every grant possible, begged for every loan imaginable. Nothing had come through.  She could not afford a crew. They were talking about it again on this night. Colin knew she was upset, even though her eyes were resolutely dry…..
Tamara Meets her Grandmother at Nearly 28 Years Old
"Well, I never. A black girl making movies. I never thought I'd see such a thing. I love the pictures. Your mama ever tell you that? We used to go every Saturday, rain or shine, no matter wht. We saw everything. You ask her."  She stopped again briefly. "Whenever we wasn't fightng, we was at the pictures. We saw everything. Ask her about Carmen Jones." …."I don't know why you'd want to make a movie about an old woman like me. But you sure can…."
Honestly, we need to pool the money together to make this book into movie.
Cast who we want or who Martha Southgate wants, and screen it in our living rooms, lounges, screening rooms.
Ms.  Southgate has given us a gift in this book. Rather than gripe and moan about new ways in which Nina Simone is being disrespected or Tyler Perry's latest iteration of normalizing violence against us, only when we control how our stories are told will we be allowed to be human in our art.
Speaking of Black peoples stories, my homie James just cut a trailer for his new film, The Bicycle. Check it out here.
Have you read Martha Southgate's work?
What are you reading now?
Crowdsourcing Black Women's Stories?
#ummp. #ummhmm.
No related posts.
Things you can do from here: