Sent to you by moya via Google Reader: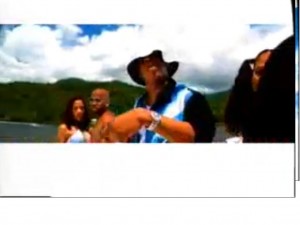 In The Wall Street Journal last week Jay-Z blinked at some of the lyrics that he has used historically. He was referring to his bars on "Big Pimping". Here is the first verse,
You know I thug 'em, fuck 'em, love 'em, leave 'em
Cause I don't fuckin' need 'em
Take 'em out the hood
Keep 'em looking good
But I don't fuckin' feed em
First time they fuss I'm breezin'
Talking 'bout what's the reasons
I'm a pimp in every sense of the word, bitch
Better trust and believe 'em
In a cut where I keep 'em
'Til I need a nut
'Til I need to be (in) the guts
The it's beep-beep and I'm pickin 'em up
Let 'em play with the dick in the truck
Many chicks wanna put Jigga fist incuffs
Divorce him and split his bucks
Just because you got good head
I'mma break bread
So you can be livin' it up
Shit I part's wit nothin
Y'all be frontin'
Me give my heart to a woman
Not for nothin' never happen'
I'll be forever mackin'
Heart cold as assassins, I got no passion
I got no patience and I hate waitin'
Hoe get your ass in
I mean shit, I do say that a sponsor/pimp is an owner so, he is just kinda laying it out, no?
How does a Black feminist respond, when one of the the world's most famous rapper's, blinks at saying this?
Where does a Black woman feminist meet a rapper where they are, is there such a thing in this context?
It reminds me of how easy it is to normalize talking shit about us and build a career off of it.
It reminds me of a post I have been thinking of "Rap Music A World Built on Black Pussy." Please note that I said rap, not hip hop. Huge difference.
It also reminds me of tone of white people and institutions that apologize for slavery. What is the point of an apology without restorative justice? The hood still look crazy. In fact, I was awakened by gun shots last night. Somebody was mad and bucking blood.
How is an apology or in this case a recognition of sexist lyrics impacting our lives?
Is it meaningful because it may be the beginning of much needed discourse?
On the Crunkfeminist's blog, Crunktastic related Jay-Z's misogyny blink to the politics of dating while being a Black feminist. An awesome read that inspired me to write this. Peep it here.
Is saying "I regret those lyrics" a beginning or posturing or a combination therein, given the fact that human beings are NOT linear. I know I am not.
No I am not saying that what Jay Z is saying is analgous to slavery.
What I am talking about is how both racism, and sexism work in similar ways AND how women of color in general and Black women specifically experiences racialized sexism. I have written about it, here, here and here.
I remember being reluctant to criticize myself and Mobb Deep on Racialicious. Now the only reason I hesitate is to ensure that I choose the appropriate words and tone to get my point across. #OldLadyRapshit. #PeacetoUnkut.
My silence never protected me, never had, never will.
Engaging with rappers be some hairy shit.
Moya tried to holler at Nelly on Twitter a month ago to discuss the issues that arose between Spelman women and the Tip Drill video, but that went awry.
Just because it went awry doesn't mean we shouldn't raise these questions. In fact, it probably means we should.
Jay-Z is worth nearly half a billion dollars.
Because Black wealth is hard to come by, and because as Leroi Jones has said  "an analysis of the state of Black music in America tells us something very particular about Black people and the US," his language is worth being analyzed.
Thoughts?
Big Pimping?
"Misogyny Blink" in Rap music?
Related posts:
Things you can do from here: