Warmth and Light, 
In a time of great shifting, we hope this message finds you radiating the purest peace from deep within.
We wanted to keep you abreast to upcoming performances. This Friday Climbing PoeTree is closing out "Black Brooklyn Renaissance, Black Arts + Culture, 1960 - 2010," at the Brooklyn Academy of Music. 
In addition there are a number of shows in the works, from the Midwest to Maine!
Get a sneak preview of the coming months below! Stay up on upcoming events at Climbing Poetree site and if you are interested in having us come to your city email bookpoetree@gmail.com for booking inquiries.
Abundant Blessings,
Alixa & Naima

Forecast of Upcoming Shows
(details pending, stay posted at www.climbingpoetree.com)
FEBRUARY
 THIS FRIDAY:  
Black Renaissance @  
the Brooklyn Academy of Music
"Black Brooklyn Renaissance, Black Arts + Culture, 1960-2010" 
Climbing PoeTree closes out a yearlong project celebrating the contributions of artists of the African Diaspora in Brooklyn, alongside:
Talu Green, Guillermo E. Brown, Michela Marino-Lerman, and Singers With A Testimony (S.W.A.T.) Emceed by Tah Phru Dah Bush
February 11
9-10:30pm (Doors open at 8pm)
BAMcafé, Peter Jay Sharp Building,
30 Lafayette Ave. (FT Green)
Co-presented by BAC and BAMcafé Live
FREE!!!  
More info 
Feb 24th- Loring Nicollet Alternative High School, Minneapolis, MN
 Feb 25th- Arts Activism Workshop with YWCA girls (morning) 
 Feb 25th- University of Wisconsin, Duluth
Performance and talk  
4pm   
in the Ballroom
APRIL  
April 3rd- San Diego, CA  
April 5-10  Riverside, CA   
April 8th- Scripps College, CA
April 12th- Sacramento, CA  
April 14th- UC DAVIS, CA  
April 16th/17th- Santa Cruz, CA  
April 20th- "Urban Nu-Sense" presents: "The Outlet"
Bowling Green, OH
April 21st- Oberlin College, OH  
April 24th- 25th  UW Madison, WI  
April 29th- Boston, MA 
MAY 
1st week of May
Bar Harbor, ME
New Brusnwick, ME
Machias ME  
Rockland, NY
VCS Gay Pride Rockland 
Hurricane Season Excerpted
Nyack Center, Corner of B'way & Depew
7:00pm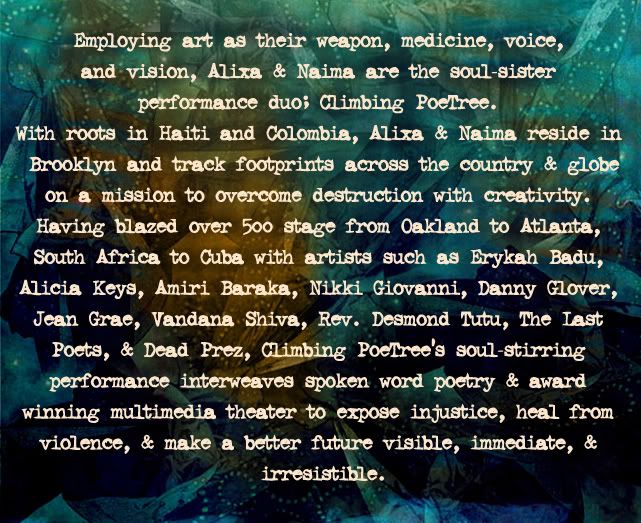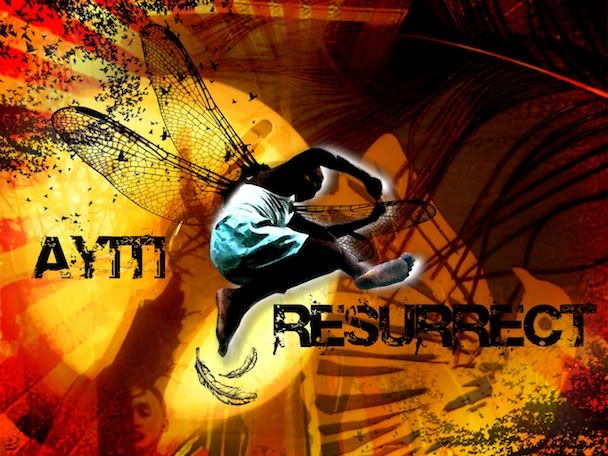 HEALING FOR HAITI
  Naima has been organizing a team of visionary artists, community builders, mental health specialists, and holistic healers with bloodlines in Haiti and the African Diaspora, working in collaboration with local Haitian organizations, to help address the psychological and spiritual healing of the survivors of the January 12, 2010 earthquake in Haiti.  
Learn more about and support